Disha Batra
A dedicated daughter, wife, mom & entrepreneur. Her passion driven brand Lusso focuses on marketing and creating luxury experiences for people. She believes in giving back to the society and truly supports the cause of philanthropy.
G R Iranna
G R Iranna is an artist whose work transcends the boundaries of time and space. Born in 1970, Iranna acquired his Bachelor of Fine Arts Degree from the College of Visual Art, in Gulbarga. Two years later, he got his Master`s degree in painting from the College of Art, New Delhi. Between 1999 and 2000 he acted as artist-in-residence at Wimbledon School of Art, London. Iranna has held more than 20 solo exhibitions of his work with galleries in New Delhi, Mumbai, London, Munich, Singapore, and Hong Kong, among other cities.
Padma Rao
A contemporary visual artist practicing painting and contemporary drawing, a visitinglecturer, arts facilitator and a published poet. Padma also works as a Project Manager for a women's charity, Sangini based in the North East of England. Padma has over 20 years' experience in the arts, heritage, community development, equalities and women's issues. Padma runs an art studio/ gallery Makaan in South Shields, UK where she has shown works of art by artists based locally, nationally and internationally. A published poet, Padma has a background of working in the radio both at the BBC Radio Newcastle, as well as in India. Padma is passionate about the role and status of marginalised women in our current society and by exploring these issues through her work, both as an artist as well as a conduit of women's development, she aims to create a platform for the wider discussions around creativity, equality, feminism, identity and displacement of Black women.
Pooja Iranna
Born in Delhi in 1969, Pooja Iranna received her Bachelors and Masters Degree in Painting from The Delhi College of Art, New Delhi. Pooja has been the recipient of the prestigious Charles Wallace India trust for the year 2002 and was the finalist for Celeste prize finalists show, New York in 2010 and the Outstanding Women Achievers Award by (YFLO), a wing of FICCI, India in 2009. Pooja has held a number of solo shows that include the recently held exhibition 'Silently… A Proposed Plan for Re-Thinking the Urban Fabric', Aicon Art Gallery, New York (on-hold) &, Bikaner House, New Delhi (2020). Pooja has been part of many museum and institutional exhibitions. The artist lives and works in New Delhi.
Tariq Allana
Tariq Allana, Ph.D., is the Associate Director of Art Heritage and one of the three co-founders of the Delhi Art Week 2021. He is also the point of contact for The Alkazi Galleries, a new space in New York City that provides a space for South Asian and Middle Eastern galleries to have a temporary presence in the City. Finally, Tariq hosts the Art Heritage audio series.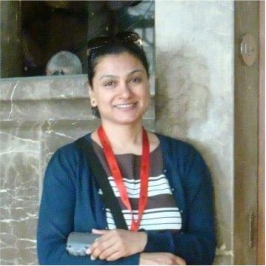 Urvija Shukla
An alumni of Indian School of Business, Urvija has been involved with Kala Sakshi since it's inception. She has management experience across India, US, Australia, and UK. For the last three years she has been working with an art company looking at new growth opportunities
Vir Kotak
Vir Kotak is an artist, entrepreneur, collector and environmental philanthropist based between Singapore, New Delhi and the Andaman & Nicobar Islands. Vir has successfully setup and run various enterprises in the ports and logistics spaces, and currently heads a transport technology platform that he founded. Vir also has deep interests in the F&B and hospitality sectors, having established with award-winning restaurants and cocktail bars, besides a gourmet delivery service and a craft beer brand. His ongoing lens based artistic practice has seen him variously exhibit at Nature Morte Gallery, Shrine Empire Gallery and Jehangir Art Gallery. Vir has founded The Eight Collection, an important and varied South-Asian contemporary art collection.
Yamini Telkar
Curator and art historian Indian Art Specialist with a demonstrated history of working in the museums, institutions and art industry. Expert in Modern and Contemporary Art and Folk Art Practice in India, has an in-depth understanding of the art market and practices. A strong understanding of collections management with a Master of Philosophy (M.Phil.) focused in Art and Aesthetics from Jawaharlal Nehru University, Delhi.